YOUR Resources:
Download the Slides + Answer Summaries Here
Download the Audio (MP3) file here to listen offline
Need a Privacy Policy? Here's a Free Generator (note: you might still want to get it checked)
Join Suzanne's free GDPR Facebook Group Here
Find out about Suzanne's DIY GDPR Compliance Packs Right Here
Want SOME More?
If you're an author, you'll love our free articles on book marketing, launching, writing skills, and tech tools. We've put together all the best strategies to help you grow your author career, all available in one handy place. Head on over to the blog and see what we've got lined up for you:
Enjoy!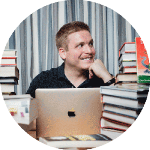 Nick Stephenson